K8ND SO2R Resources
Updated 1 November 2009 (b)
In mid-2001, I accumulated all the radio and interface parts I needed to rebuild my station for Single Operator 2 Radio contesting. Since then, most of them have been sitting in plastic storage bins awaiting the construction of a new operating desk to hold it all in an ergonomic arrangement. Other priorities have kept me from using most of it, and some of the hardware has now been integrated in the PJ2T contest station at Signal Point, Curacao.
Outside, I have a simple one-tower station, with a separate Inverted-L for 160 Meters.
This web page was set up to serve as a private "online notebook" for me. Not being a "re-invent the wheel guy", as I found images or ideas which I could use in designing my own station rework, I added them to the page. The site was soon was found by others, and now serves as a generally available "idea book". The links and photos sent to me are an interesting resource for those (like me) who are trying to "play catch-up" in getting our stations "SO2R ready"!
I've retained some of my own "working notes" at the bottom of this page: you may safely ignore them!
Primordial SO2R Station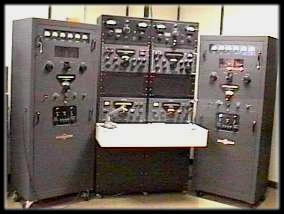 ---
SO2R Controllers / Hardware & Products (Updated 3/23/08)
SO2R Information Links (Updated 10/04/08)
---
Here are thumbnail photos of SO2R operating desks - click on the photo to see a larger version (with web links, if known).
If you know of other photos (800x600 preferred) or web site references, please send them to me at: K8ND@arrl.net
---
---


Webmaster
Last Update: 11/01/09