---
Jeff Maass'
IPSC Loads Lists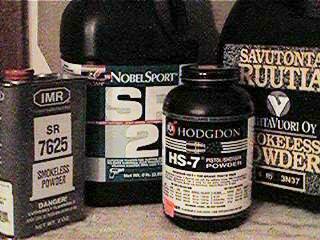 These lists have been gathered from a variety of published and unpublished sources, and have been reported as safe in modern firearms of the types used  in IPSC competitions. Every gun is different, and you are responsible to use common sense and safe load development techniques in working up to a good load for your own use.
IMPORTANT NOTE: The .38 Super and 9x21 loads, in particular, are only safe in firearms with barrels that fully support the case, which generally includes only custom-built guns. The specific needs of the IPSC shooter require that loads used will exceed the pressure limits set   by SAAMI and CIP, and these loads are not to be used by the casual reloader! The lowering of the IPSC Major power factor from 175,000 to 165,000 does not change this: these are still high-pressure loads!
  "Come on in and take a load off!"
     (Thanks to Jim Boemler for suggesting the slogan!)
If you have a pet load or a reloading tip you'd like to pass on to your fellow shooters, please send me email here.
Several people have asked whether I have an IPSC Loads List for .45ACP. I do not. I don't plan to add one, as there are many, many IPSC Major loads in the commercial loading manuals. 
These Loads Lists are in Adobe PDF format, Reader or Acrobat versions 5 or later. If you don't already have a copy of Adobe Acrobat Reader, you can get a free copy by clicking below!   


---
Competition Reloading Videos
Reloading With The Masters
38 Minutes / $25.00

More of an advertisement for VihtaVuori/Lapua than one should be expected to pay for. It's largely a 38 minute "Infomercial" that you pay for the privilege of watching.

Based on the cover that features IPSC shooters Matt Burkett, Rob Leatham, Angus Hobdell, Brian Enos, and Don Golembieski, I expected some IPSC-specific reloading information. I got little, outside of some interesting discussion of the various VihtaVuori powders. Reading the script is Matt Burkett, and the others listed appear only to give short testimonials to the quality of VihtaVuori powders.

The majority of the tape covers beginner-level information, focusing more on rifle loading on a single-stage press. Judging by the extensive use of RCBS reloading equipment, I suspect that they were a sponsor of this production along with VihtaVuori OY. No Dillon Blue in sight: it's pretty surreal!

The tape costs about $20-$25 from several dealers, including Shooters Connection and Graf & Sons.

Summary: Save your money. The Brian Enos tape "Competition Reloading With Brian Enos" from Gunvideo.com is a far better choice for someone wanting to learn about reloading for USPSA/IPSC and other action handgun matches.
Competition Reloading With Brian Enos
80 Minutes / $20.00

Lots of good tips on reloading for IPSC and other action handgun sports!

Narrated and demonstrated by IPSC Grandmaster Brian Enos, with prompting by off-camera Lenny Magill, this tape demonstrates the setup and proper use of a Dillon progressive press (XL650 is used), and covers all the details required for reloading quality, reliable competition ammunition.

Brian Enos is not a rousing speaker, and his monotone has resulted in me dozing off more than once while watching this tape! Perhaps a scantily-clad female assistant would have helped, handing him a jug of powder here and a box of bullets there. Prop your eyelids, though, because there are some very good tips embedded in this tape!

Tape is available from gunvideo.com for $20.

Summary: Recommended purchase for the IPSC reloader!

Reloading Component Dealers
---